This week I helped the Inforrm blog put together a list of privacy injunction hearings, to contribute to the debate about super and anonymous injunctions. Versions of the post have appeared on the BBC College of Journalism and the Italian-English Media Laws site. Or see below!
Limited information is available about privacy injunction hearings in British courts but sometimes the press cries 'super injunction' when it's simply not.
A super injunction is where its very existence cannot be reported – as in the cases involving Trafigura (2009) and Terry (2010). As media lawyer Mark Thomson explained in a footnote on the Inforrm media law blog last year: "The 'super injunction' part of the order is the restraint on publication of the existence of the proceeding."
So the recent case of ZAM v CFW, despite media reports to the contrary, did not involve a super injunction – as freelance lawyer and former Guardian readers' editor Siobhain Butterworth confirms in an article here.
Instead, it was an order in which the names were anonymised – hence the mysterious ZAM and CFW – but the media could report that the injunction existed and the judgment was publicly available online.
Interestingly, it was a libel, not a privacy, case. The anonymous claimant applied for an interim injunction in libel and under the Protection from Harassment Act 1997 to prevent the publication of statements about the claimant's management of family trust funds. But that's a discussion for another post…
Twelve months ago, the Master of the Rolls, Lord Neuberger, formed a committee of media lawyers and judges to "examine the issues around the use of injunctions which bind the press and so-called 'super-injunctions'". It is due to report by the end of April.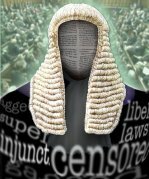 In the meantime, in collaboration with the Inforrm blog – using public documents and information supplied by legal observer Benjamin Pell and the clerks to the Jury List judges – I have attempted to collect as much information as possible about anonymous privacy injunctions between January and March 2011.
Contrary to what you might expect, it appears that there are very few privacy injunctions against the media directly. The public judgments suggest that the injunctions are often against blackmailers, and it is rarely contended that there is a public interest in the publication of the information.
There appear to have been 11 privacy injunction hearings in the first three months of 2011, seven of which resulted in 'public' – although not always 'published' – judgments and two in which judgment is awaited. (Public judgments can be inspected at the courts but are not always published online on the Bailii website.)
There were two injunctions granted against media defendants. None of these injunctions are 'super' in nature: so the existence of the injunction can be reported, although in most cases the names of the defendants and claimants cannot.
Of these 11 cases, two were defended by a newspaper group and eight hearings involved individual defendants – some of whom had threatened to provide information to the media. (The other case had an unknown defendant.) As far as I am aware, none of the orders made was challenged by media organisations on public interest or other grounds.
I'm also trying to find out how news organisations have been affected by these privacy injunction orders even if they were not the defendant themselves. So far, I can report that the director of editorial legal services at Guardian News and Media, Gillian Phillips, has received three anonymised privacy injunctions between 1 January and 31 March 2011 but no 'super' injunctions. And there were a number of court reporting restrictions in children and criminal cases, and an order from the Court of Appeal in an immigration case that prevents the newspaper naming the individual concerned.
So where does all that leave us? While journalists should continue to raise questions about 'super injunctions' and the use of anonymous injunctions restricting the media's ability to report court proceedings, there is a more pressing need for raw information direct from the courts. It is believed that a draft report has now been considered by members of Lord Neuberger's committee; ideally, it will make positive recommendations to improve the transparency of privacy injunction hearings and better inform the media debate.
The cases
ETK v News Group Newspapers, an injunction granted by the Court of Appeal after a hearing on 10 March 2011, the judgment is awaited.
MNB v News Group Newspapers [2011] EWHC 528 (QB), injunction granted by Henriques J on 1 March 2011. Newspaper defendant agreed to its continuation. Publication interest justification for publication abandoned. Sharp J made further orders.
There were eight hearings involving individual defendants – some of whom had threatened to provide information to the media. As far as we are aware, none of the orders made were challenged by media organisations on public interest or other grounds. These were, again in reverse chronological order, as follows:
CBL v Person Unknown or Persons Unknown, (29 March 2011), Sharp J. We have no information about this injunction.
Goldsmith v BCD [2011] EWHC 674 (QB), (22 March 2011) Tugendhat J. This was a renewal of a 2008 injunction against an individual. It was not suggested that there was any media interest in publishing the information or public interest.
RJA v AJR, (4 March 2011), King J; (18 March 2011), Sharp J and (22 March 2011), Sharp J. We believe that an ex tempore public judgment was given in this case.
YYG v PJK¸(11 March 2011), Sharp J. We have no information about this injunction.
ZAM v CFW and another [2011] EWHC 476 (QB), (7 March 2011), Tugendhat J. An interim injunction in a libel case, along with an anonymity order. We had a case comment and a further post about the media coverage.
Hirschfeld v McGrath (4 February 2011), Teare J, [2011] EWHC 249 (QB), Tugendhat J. An injunction to restrain the publication of intimate information concerning the relationship between the parties when they were married. There was no media interest and no assertion of public interest.
YYZ v YVR [2011] EWHC 274 (QB), (4 February 2011), Eady J. Extended an injunction granted originally by Supperstone J on 27 January and continued by Eady J on 28 January. The injunction prevents the defendant revealing the content of an email sent mistakenly to the defendant by the claimant. The judge found that "it could not conceivably be argued, for example, that any genuine public interest attached to the content of the claimant's email."
OPQ v BJM [2011] EWHC 160 (QB), (2 February 2011), Eady J. An injunction apparently granted to restrain the publication of information by a private individual (see the Daily Telegraph). Mr Justice Eady described it as a "straightforward and blatant blackmail case". The evidence shows that negotiations were attempted with a newspaper group to sell intimate photographs and/or other information obtained in circumstances which were self-evidently private. The judgment says that:
"A large sum of money was apparently being discussed with Associated Newspapers, but an agent acting on behalf of BJM made contact with the claimant's solicitor last Saturday evening and said that she, the first defendant, would rather do a deal with him. It was thought that the claimant might prefer to pay some money at that stage to make the problem go away for good."
Eady J received a letter from solicitors for Associated Newspapers saying that he should reveal more about the claimant's identity but the judge did not deem it appropriate. Citing JIH v News Group Newspapers Ltd [2011] EWCA Civ 42 at [40], he said: "It is necessary to take steps sometimes, and this is such a case, to minimise the risk of jigsaw identification rather than encourage it." There was a further hearing in this case on 6 April 2011. Judgment was reserved.
POI v A person known as 'Lina' [2011] EWHC 25 (QB) Tugendhat J (13 January 2011) and [2011] EWHC 234 (QB), Supperstone J (26 January 2011) – An injunction to restrain the publication of photographs by blackmailer where no public interest in publication was asserted and there was no media intervention.